FX
To be effective you need to know certain things. So let's take a look at what the FX market is.
What is the FX market?

Past performance is not necessarily indicative of future performance. The risk of loss in trading FX contracts, options or forex can be substantial, and therefore investors should understand the risks involved in taking leveraged positions and must assume responsibility for the risks associated with such investments and their results.
Currently this Portal is for informational purposes only and includes statements of opinion.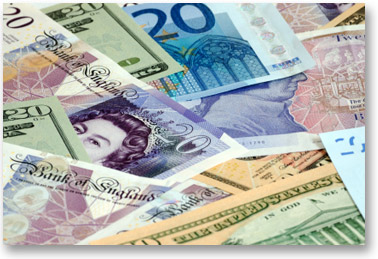 Forex – The foreign exchange market or spot fx or retail Forex or currency market is a non-stop financial market where currencies of different nations are traded.
Some of the participants in this market include government, central banks, commercial and investment banks, hedge funds and massive multinational corporations. Some of the volume in the forex market is simply banks and corporations exchanging one currency for another. However, traders who attempt to take advantage of small fluctuations in exchange rates can also participate in the Forex market.
Forex stands out from other markets for a number of reasons:
24-hour trading, 5 days a week.

The ability to profit in rising or falling markets.

The biggest financial market in the world.

Leveraged trading with low margin requirements

.

Unlike stocks the market cannot be cornered.
Every day close to $5 Trillion is traded through the Forex market. Even if you take all the daily volume traded on the U.S. stock, bond and equity markets and add it together it does not come close to matching the enormity of the Forex market.
What does this mean for you?
It means that, if you wait patiently you can become a trader in the Forex market. If you want to be Rambo and go in guns blazing, the market will beat you down. Investing is risky and past performance does not guarantee future results. Please only use risk capital in doing so.
What is the Spot FX market?
Spot FX is just another name for Forex, it is not a different market. Spot market simply means a market that deals on the current price of a financial instrument, unlike markets such as futures which are traded differently. In the Forex market, positions are taken based on current prices, therefore it is a spot market.
A little More on FX
Ok, lets quickly go through a few other facts about the Forex market. You don't need to know this stuff to be a successful Forex trader but, if you're going to trade this market, you might as well know a few cool facts about it.
Back in 2007, the reported daily average turnover of the Forex market was reported to be over US$3.2 trillion by the Bank for International Settlements. Between 2007 and 2008, it was reported that the market grew an additional 41%, taking it to a massive US$4.5 trillion daily.
The average daily turnover for 2007 was:
$1.005 trillion in spot transactions

$362 billion in outright forwards

$1.714 trillion in foreign exchange swaps
Foreign exchange swaps account for a slim majority of the average daily turnover.
They are mostly put through by institutions to fund their foreign exchange balances. Spot transactions account for the rest of the average daily turnover.
Why isn't FX as popular as the Stock Market?
Even though FX has been around for a long time it wasn't until about 1996 that private individuals could trade it. Previously, It was only open to the very rich and was mainly traded by institutions, such as banks and hedge funds.
By 1998, the internet was increasing in popularity. This led to many brokers opening up business online thus allowing smaller traders access to the FX market.
So FX is a relatively new market to smaller traders, and while it's growing very fast, it is not as well known as the stock market. However, the FX market has many advantages over the stock market.
Where Is Forex Located?
You probably already know that the physical location of the U.S. stock market is New York, and the Futures market is Chicago.
You may sometimes hear London referred to as the global center of the foreign exchange market. This is because trading in London accounts for close to 35% of all trading. This is more than double the 17% New York trading accounts for.
However, in Forex there is no central location. Forex is not dealt across the floor like the stock market on Wall Street, it is traded via the internet. Trading is conducted between traders 24 hours per day through electronic communication networks (ECNs), in various markets around the world. Since the Forex market is traded through ECNs, it does not need a physical location yet the global center of Forex is definitely London.
What's an ECN?
An electronic communication network (ECN) is the term used to describes the computer system that facilitates trading of financial products outside of physical exchanges, such as Wall Street. Forex is traded through an ECN. ECNs first started being used in 1998 when the SEC (Securities and Exchange Commission) authorized their creation.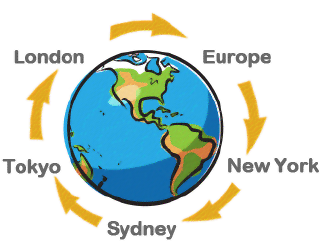 What are the Open and Close Times?
Arguably the best thing about the Forex market is that it's open 24 hours a day for 5 days a week. In the stock market, the New York stock exchange (Wall Street) has an open and close time. The fact that Forex is traded through ECNs, rather than a physical exchange (Wall Street), means that it doesn't have to close. Thanks to the different time zones around the world, there is always a country open for business. The market opens on Sunday at 5pm U.S. EST in Sydney and moves on to Tokyo, Frankfurt, London, New York and back to Sydney again until it closes in New York on Friday at 4pm EST.